Saratoga Hotels & Resorts Specializing in Wedding Receptions
If you're planning a wedding in the Saratoga region, chances are you will be checking out hotels and resorts that accommodate receptions, along with other types of Saratoga wedding venues. When reviewing options, while it may seem obvious, make sure to keep in mind the the number of people on your guest list, as well as the reception's overall flow based on activities. An empty room can look huge, but a band or DJ setup, buffet, bar, tables, chairs and other wedding essentials can fill up the space quickly.  Hotels and resorts can typically accommodate parties that range in size from 50 to 500. As an added bonus, many have event planners specializing in wedding receptions right on site!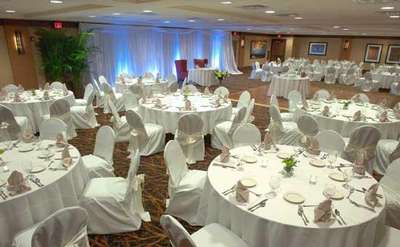 Holiday Inn Resort at Lake George
Lake George, NY
The Perfect Place for Your Perfect Wedding
The Holiday Inn Resort at Lake George has decades of experience putting together the most memorable weddings imaginable. The resort's charming ballroom, the Prospect Room, offers 2,500 square feet of space that accommodates up to 150 people.