Saratoga Wedding Guest Accommodations
Many brides-to-be will have wedding guests who are from out-of-town or even out-of-state. They may be unfamiliar with the Saratoga area. It would be very helpful to these guests to receive a list of predetermined lodging choices that you've researched based on location to both ceremony and reception sites, as well as varying budgets. It's often popular to block out several of a hotel's rooms for your wedding guests, or even to book an entire inn or bed and breakfast.
There is also the wedding night for the bride and groom to consider. If you are not leaving for your honeymoon directly from the wedding reception, it's a nice idea to stay at a nearby hotel in Saratoga Springs for the night. This is especially true when selecting a hotel, resort or inn as your reception location. Many businesses include this accommodation in their wedding package.
Note: Be sure to make reservations early as accommodations in Saratoga Springs are often booked far in advance due to the city's many events and activities. This is especially true during thoroughbred racing season, which typically runs from the end of July through Labor Day weekend.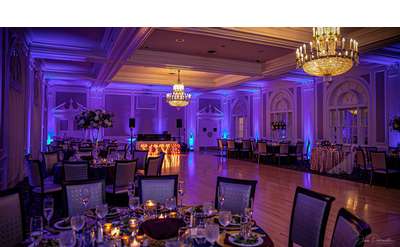 The Queensbury Hotel
Glens Falls, NY
Experience the historic Queensbury Hotel for your wedding day.
A historic venue, beautiful ballrooms and elegant event spaces, The Queensbury offers the perfect, classic backdrop to your day.