Large Wedding Reception Venues In & Near Saratoga Springs NY
Planning a big Saratoga wedding where lots of extended family members and far-flung friends can gather? Do you need space for 200 or more guests? You can find the perfect wedding venue, whether indoors or outdoors, for your special celebration. The following locations offer seating for 200+ guests and can be sorted by indoor or outdoor reception venues. Invite everyone on your list and have a wedding day in Saratoga that you and your guests will long remember!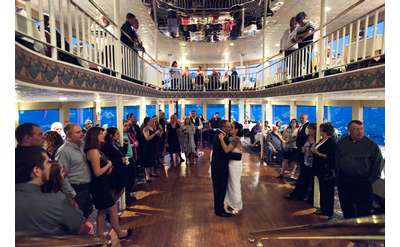 Lac du Saint Sacrement
Lake George, NY
Timeless, Elegant, Memorable!
Let us help you with the wedding of your dreams! Lake George Boat Weddings at the Lake George Steamboat Company offers you the most unique and beautiful setting you can imagine!