Smaller Wedding Venues: Saratoga Inns & B&Bs for Romantic and Intimate Wedding Receptions
For an elegant, intimate and romantic Saratoga wedding ceremony and/or reception, these unique wedding venues, historic inns, and charming bed and breakfasts provide a remarkable setting. Located in or near Saratoga Springs, these venues provide top-notch amenities and service, where you can treat yourself and your small guest list to a lavish and personalized experience. The inns also make a great choice for destination weddings where you can enjoy all the beautiful Saratoga region has to offer. Start by contacting the venues directly to see how they can make your dream wedding in Saratoga Springs a reality.
The Saratoga Winery & Tasting Room
Saratoga Springs, NY
Have the rustic, elegant wedding of your dreams!
The rustic nature of the Adirondacks and the sophistication of Saratoga Springs come together for the ultimate wedding and event venue at the Saratoga Winery & Tasting Room. Enjoy the best of both worlds for your special day!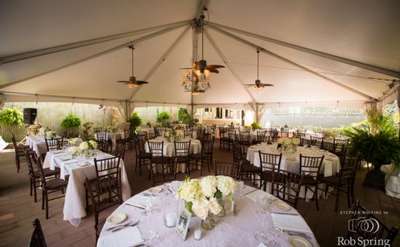 Surrey-Williamson Inn
Saratoga Springs, NY
Historic Intimacy & Private Prestige
The Surrey-Williamson Inn at Skidmore College offers an intimate wedding venue ideal for small celebrations and sought-after private escapes. The Inn features several flexible options for ceremonies, cocktail parties, and special events.
Adirondack Cruise & Charter Co.
Saratoga Springs, NY
Sail away with Adirondack Cruise & Charter Co. on Saratoga Lake — one of Saratoga's best kept secrets. Book a private cruise perfect for bachelorette parties, engagements, intimate wedding celebrations, and other festivities.
The National Museum of Dance
Saratoga Springs, NY
Weddings at the National Museum of Dance are classy, elegant, and unique. We will do everything to make your special day memorable for you and all of your guests.
Anne's Washington Inn
Saratoga Springs, NY
Anne's Washington Inn is the perfect location for your outdoor wedding.