Saratoga Area Venues for Wedding Showers, Rehearsal Dinners & Brunches
The Saratoga area offers a variety of great venues that are perfect for hosting large or small wedding showers and rehearsal dinners, as well as a post-wedding brunch for family and out-of-town guests. What's customary for each party? The maid of honor and/or bridesmaids typically throw the wedding shower for the bride, but it can also be aunts, coworkers, the groom's family — really anyone who wants to help plan this special occasion for the bride. It can range from tea and dessert to a sit down luncheon or buffet. The guest list and budget will help you choose a Saratoga location below, as well as menu options.
The rehearsal dinner is often organized by the groom's family, but it can also be hosted by both sets of parents or the bride and groom. It's a great way for two families to mingle in a relaxed setting, as well as a fun celebration with your wedding attendants prior to the big event! It can range from pizza and beer to a formal banquet or garden party. It all depends on the budget, number of guests and what the host envisions.
Wedding brunches are most often paid for by the bride's family, but can be hosted by the newlyweds as well! These are usually smaller, more intimate affairs for family, wedding attendants and close friends, especially those who are out-of-town guests. Choose a location that is near the wedding guests' accommodations. This can be a space within your wedding reception venue, or nearby.
Browse the list of venues below to find the right one for your Saratoga wedding shower, rehearsal dinner or post-wedding brunch.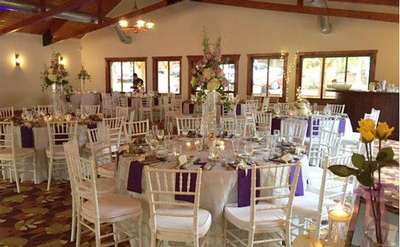 Blue Water Manor
Bolton Landing, NY
Blue Water Manor's picturesque setting makes the property the ideal venue for your wedding. Our property offers spectacular views of Lake George and can accommodate both indoor and outdoor events.