The Latest Trends in Bridal Hairstyles and Makeup For Your Saratoga Wedding
Already found the perfect dress and need to decide on the hair and makeup to match? Or, perhaps you're thinking about the whole picture before diving in. Either way, the decision on what to do with your hair and makeup can be daunting. You want to choose something special and intricate to commemorate one of the most important days of your life, but in the end, you still want to choose a look that feels like you. Luckily, the latest trends are full of sweeping, elegant style, while remaining natural and relaxed.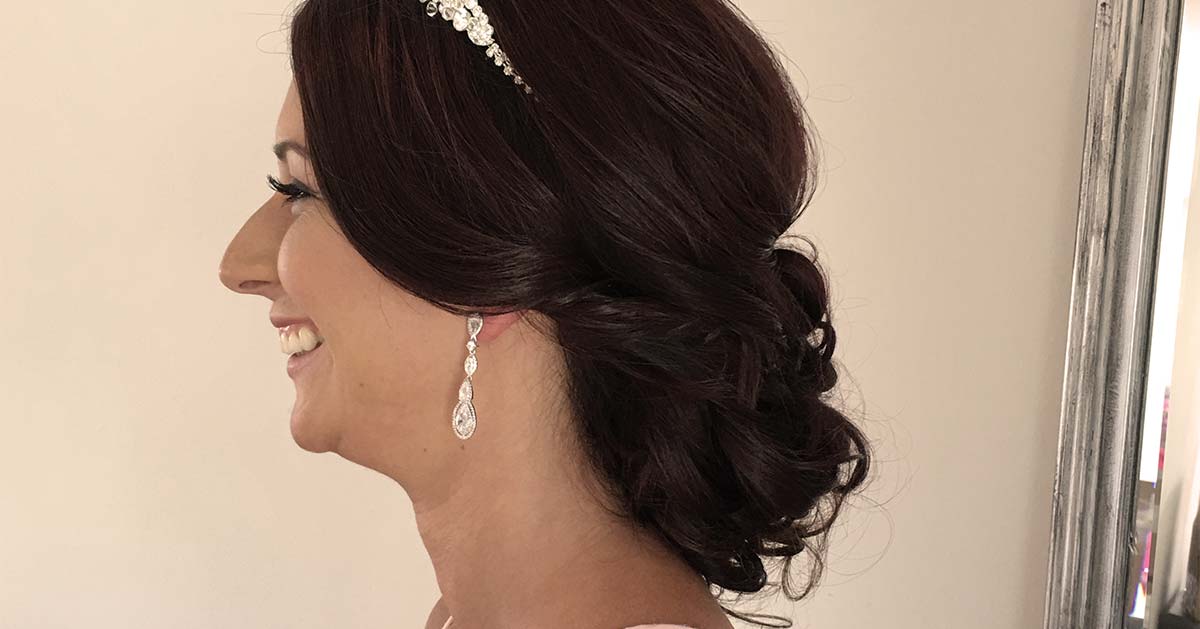 UPDOS – GO NATURAL AND ROMANTIC
The biggest trends in bridal hairstyles are classic, understated… and a little messy.
Joanna, the owner of Lipstick n Lashes in Ballston Spa, says that messy hairstyles are one of the most popular choices. "By messy," she says, "we mean more of a loosely pinned soft style that sits lower on the head with random strands left out for a romantic, almost bohemian look."
This would be a perfect style to choose if you have chosen a historic venue, such as an inn or bed and breakfast, and wish to evoke a different era.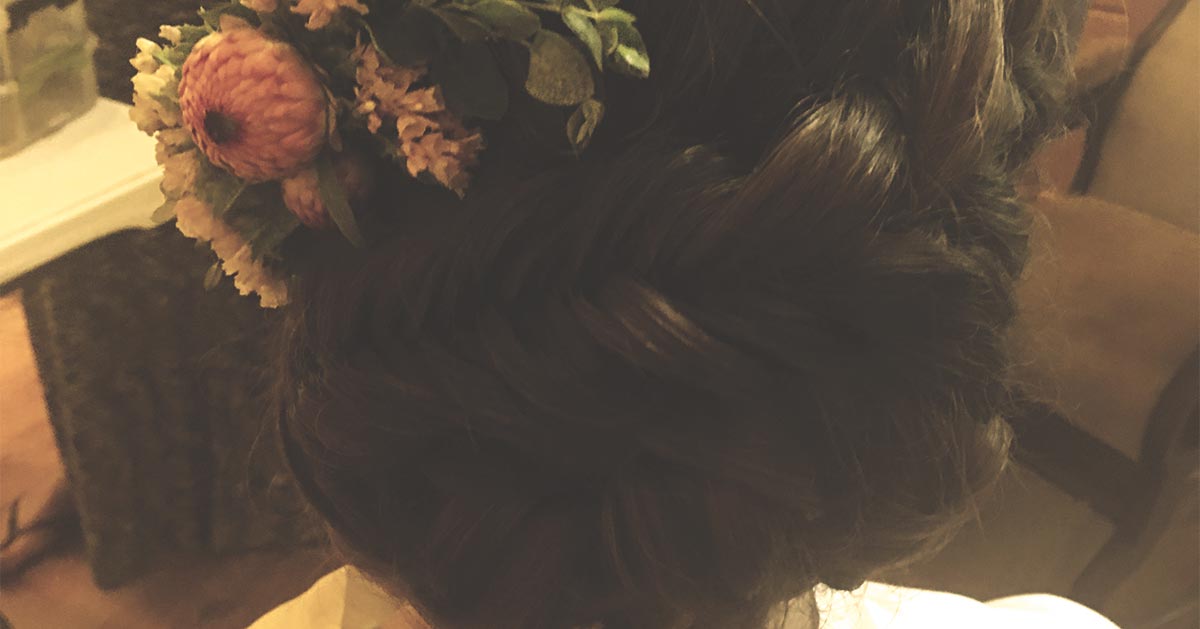 WHEN TYING THE KNOT… GO WITH BRAIDS
Add braids to your updo (or any style!) to add extra detail and bohemian flair. At Lipstick n Lashes, "some of the most popular are two stranded, Dutch (inside out), French and fishtail." There are a wide range of looks to consider, from a half-up look with a couple of simple braids, to a full braid crown. It really depends on how elaborate you wish to be, which will depend on your dress, venue, and personal taste.
Consider taking the bohemian look to another level and weaving flowers into your braids. You can match the flowers with your bouquet, or if you're having an outdoor wedding, you can choose flowers that will be in bloom and incorporate the local scenery into your hairstyle. This will also work wonderfully if you plan to pose for photographs outdoors.
The most important takeaway is to keep your hair a little windswept but intricate. You don't want your hair to look as if you've constrained it with product.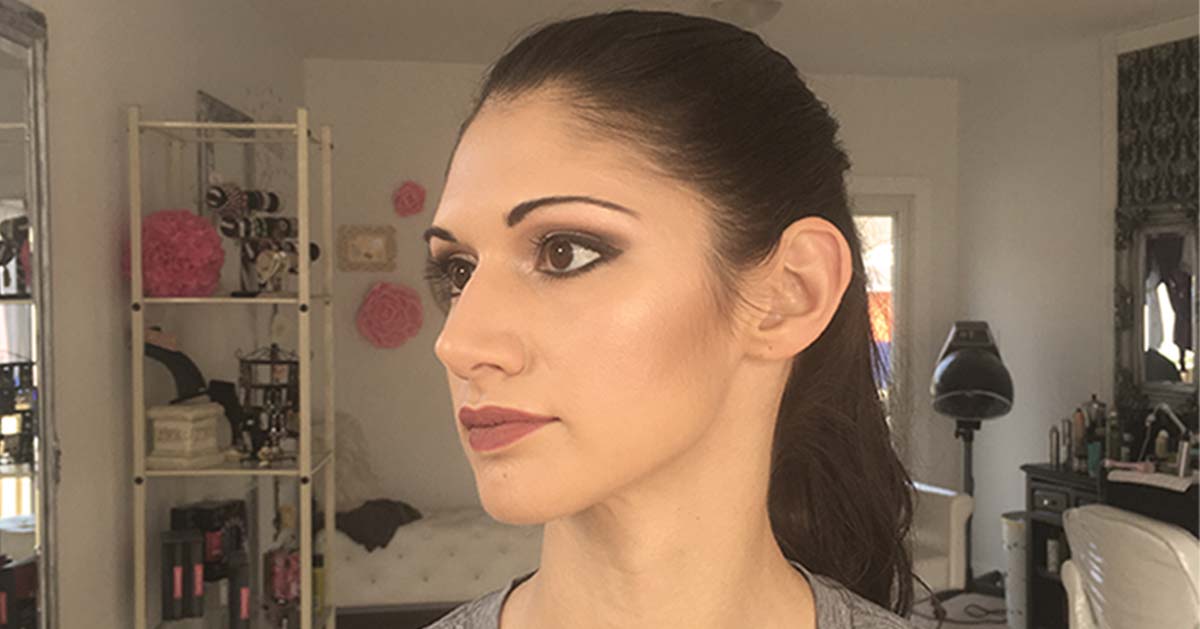 USE MAKEUP TO HIGHLIGHT YOUR FEATURES
In keeping with the natural trend, you'll want to use makeup to call attention to your features, not to your makeup. As Joanna explains, "With this makeup trend, the key is to bring forward the bone structure that protrudes and give depth to the inner part of the structure…. The key is to give an illusion, not show makeup."
If you decide to keep your hair relaxed and a little old-fashioned, you don't want your makeup to be too obvious.
HAVE SOME FUN WITH THE DETAILS
Add a pop of color with your lipstick, or go with a more subdued tone. At Lipstick n Lashes, they recommend matte lipstick because it lasts longer than your traditional glossy shades. This means that you won't have to worry as much about your color wearing off or smudging during the ceremony and the reception. The muted sheen will also give off a more natural vibe and won't catch the light of the flash in photos.
An exception to the "natural" trend is false lashes. Eyelashes are a great element to emphasize because they call attention to your eyes without the need for much eye makeup. Go light on the eye shadow and liner and let your eyelashes stand out.
Remember: this year's trends are all about natural beauty, so don't forget to choose a style that makes you feel comfortable and like the best version of yourself. Click here to learn more about Lipstick n Lashes in Ballston Spa, just south of Saratoga Springs, NY.
Browse a directory of hair and makeup professionals to find your favorite >>
Decided on what to do with your hair and makeup? Use our beauty checklist to keep track of other details >>