The Ultimate Wedding Week Beauty Checklist
It's the week before your wedding. Things are getting down to the wire. Hopefully, the majority of the planning process is behind you at this point. The venue is booked, the menu decided upon, the DJ has your do-not play list, and so forth.
Now is the time to relax and focus on looking and feeling your best for the big day. No one wants to look flushed and stressed on their wedding day with bags under their eyes – or a zit! Read on to get your wedding week beauty checklist so you'll be radiant and ravishing.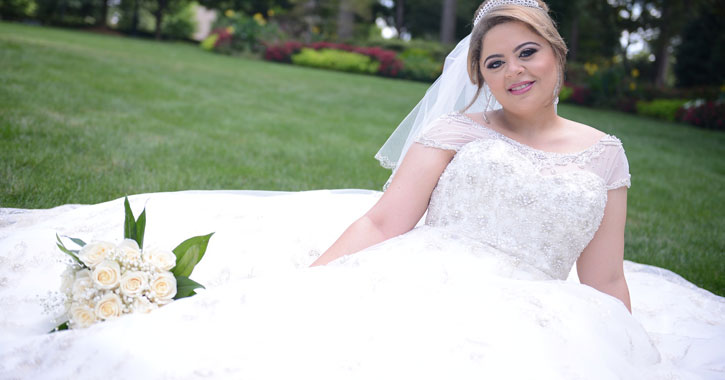 7 Days Before: Schedule Teeth Whitening & Up the Exercise Routine
Planning on teeth whitening? Schedule it a week before the wedding day. You don't want to do it sooner because you're likely to experience at least some sensitivity.
This is also the time to start upping your fitness routine for some last-minute toning.
Do not: Color your hair or get it cut. This should be done 10 days to two weeks before the big day.
6 Days Before: Get That Facial
Just about a week before nuptials is the time for a hydrating facial, preferably if you already get regular facials.
Do not, however, do chemical peels, laser treatments, injections, or anything invasive that will require significant healing time.
5 Days Before: Start a Daily Exfoliation Regimen & Cut Back on the Booze
Five days before is when you can start a daily exfoliation routine. This is what will give you that radiant, glowing, bridal skin.
Although you might be in a celebratory mood, this is the time to start cutting back on alcohol and salty foods. Eating healthy and drinking a lot of water is sure a way to get your skin looking and feeling more hydrated.
4 Days Before: Up the Vitamins & Get a Wax
Did you know? Individuals under stress (and let's face it, you're likely to be at least a little bit stressed about the most important day of your life) are likely to have lower levels of B vitamins.
Vitamins B and C slow down the look of aging and can also help fight off illness. No one wants to be reaching for a tissue right before they're about to go down the aisle!
Also, if you're thinking about an eyebrow or bikini wax this is a good time to do it. Any redness should clear up in time.
3 Days Before: Enjoy a Massage
Three days – you're so close! Stop and enjoy a massage (maybe a couple's massage?) and sooth those nerves. Massages help alleviate anxiety, stress-related insomnia, and can help to soften joint pain, or any physical stress you might be feeling.
2 Days Before: Sit Back for a Mani-Pedi
Get a mani-pedi a day or two before your wedding day. You might request a gel polish to avoid any chips on your big day. You can also get a spray tan at this time if you'd like.
1 Day Before: It's Time for Beauty Sleep (And to Treat Any Zits)
Rest. Relax. Eat healthy foods. Get some sleep. It's almost time!
Starting to feel a zit coming on? You can get a cortisone shot if it's at least 24 hours before the wedding. Call your dermatologist for this one. If it's too late for that, spot treat, and then conceal with makeup; avoid popping the zit.
If you're working with a professional makeup artist they should know the tricks for covering it up, and if all else fails, your photographer can make the blemish go away in photos with editing.
Bonus: Emergency Beauty Kit for the Wedding
Here's what to pack in your purse for the day of. You can ask your maid of honor to help out with this.
Makeup
Q-tips to remove smudges
Extra pair of hosiery if you're wearing them
Hair pins and an elastic – just in case
Hairspray and gel
Lint brush
Lip balm
Manicure set (emery board, nail scissors, nail clipper)
Moisturizer
Redness-relief eye drops
Safety pins in a variety of sizes (to reattach a strap)
Superglue for reattaching beads or a heel
Double-sided fabric tape
Tissues
Tweezers
Oxiclean stain removal wipes
Sources:
Bridal Guide: Beauty Tips for Your Wedding Week
Byrdie: Your Wedding Beauty Timeline: What to Do & When to Do It
Glamour: Your Wedding Beauty Timeline
The Wedding Book: The Big Book for Your Big Day by Mindy Weiss and Lisbeth Levine