7 Offbeat Wedding Dress Ideas for the Fun-Loving Bride
Choosing the dress can be one of the most important parts of the wedding planning process – and the most fun! If you're itching to get a little bit creative with your dress keep reading to discover some excellent ways you can make your dress more personable to you.
1) Embrace One Solid Color You Love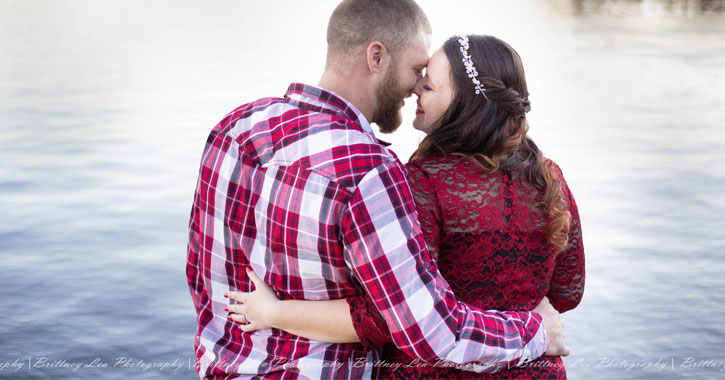 Photo credit: Brittney Lea Photography
If you can't picture yourself walking down the aisle in the traditional white dress, no worries. Many brides feel the same way, and there is absolutely nothing wrong with choosing a color you love and rocking it. Red, pink, blue, or yellow are common colors to pick, but really the sky's the limit with this one. Remember that it's your day!
To get ideas for the right color for you, and what exactly a colored wedding dress would look like, browse celebrity wedding dresses online. Jessica Biel wore a flowing soft pink dress, Amber Tamblyn donned a simple but beautiful yellow wedding dress, and there's definitely more colorful inspiration out there.
2) Have Fun With a Splash of Color – Or Two Colors
Want a little color in your look but don't want to commit to a full-on pink or blue wedding dress? You can compromise! Having a colored sash or bow tied around your waist is a common way to add a bit of color to your dress. The color you choose for this would probably fall in line with your wedding colors, and/or would match your fiance's boutineer.
Another idea that is becoming trendy is to go for an ombre look, similar to the popular hairstyle. Your white dress can fade into another color (probably a light shade) at the bottom of your dress. You could also opt for a two-toned dress.
3) Choose a Color Close to White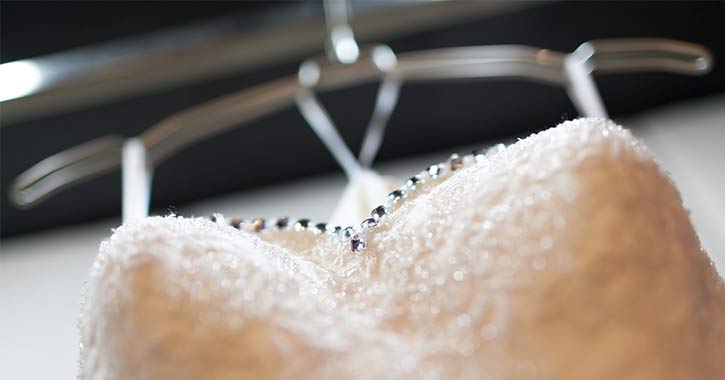 This is a fantastic option if you're looking to think outside the box a little bit but still want to keep it traditional. Silver, gray, gold, light pink, and champagne colored dresses can be stunning, and they're close enough to white that guests probably won't even notice right away that you've opted for something a little different.
A note on white dresses: Stark white can be a tricky shade to pull off for most women, especially if you're on the pale side. If you do have your heart set on white you might want to consider a nice creamy ivory or eggshell shade.
4) Check Out Floral or Patterned Dresses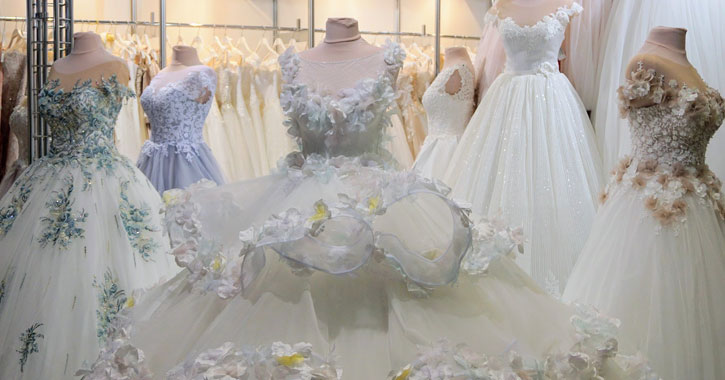 Don't think you need to pick just one or two colors. You can really have fun with your dress with a floral print, polka dots, stripes, or any other design you can think of. One fun idea to try with a floral print is to have a white or close-to-white dress with a pattern of flowers that makes it look like they're raining over the dress. So pretty!
5) Find a Fun & Flirty Short Dress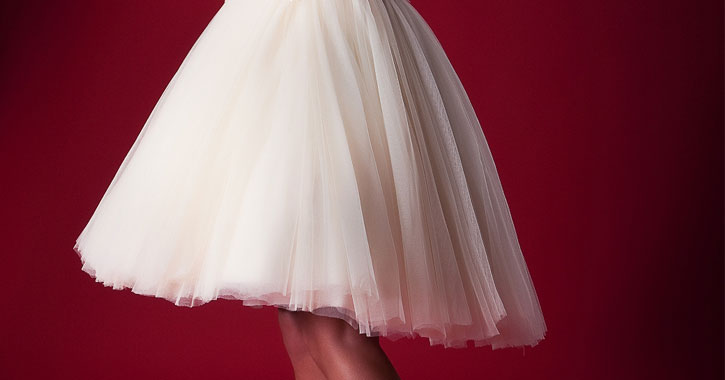 Whether you're going for white or some color, a short wedding dress can be a fun way to switch it up and also show off your fabulous shoes. You could opt for a sleek, smooth, form-fitting dress, or a playful, ballerina-style dress with some ruffles.
6) Try a Gorgeous Prom Dress
You read that right – prom dresses have really come a long way since the monochromatic, stiff looks from the late 90s and early 2000s. If you're open to it, it can't hurt to check out what's new in the prom dress world today. You might just find something you love that will undoubtedly cost significantly less than an actual wedding dress.
7) Bonus: Go Beyond the Dress
Here's a little-thought of option for brides: pants. Increasingly more brides are opting for pants these days, whether for comfort, style, or because they see traditional wedding dresses as archaic and outdated. Think sharp pantsuits, playful jumpsuits, or even just designer pants paired with a fashionable top. Stop in to your favorite bridal boutique to browse available options – you'll be pleasantly surprised.
Whatever you end up going with, make sure you enjoy the decision-making process, and choose something that speaks to you.