Wedding Photo Album Dos and Don'ts
Gone are the days of cookie cutter wedding photo albums that all look virtually the same. Your album should be as unique as the wedding itself, and a reflection of the two of you as a couple.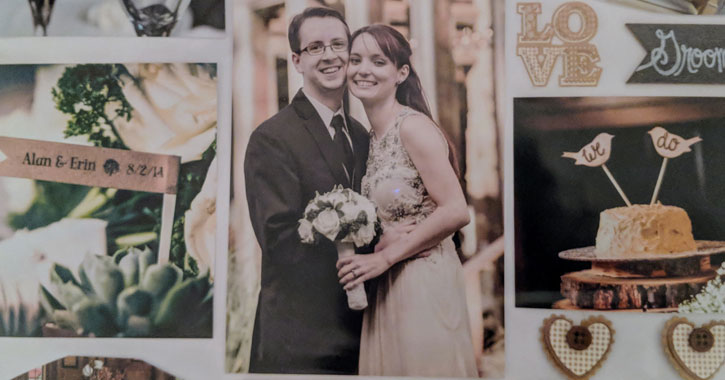 Keep in mind, your wedding photos will dictate how everyone remembers the magical event, so you definitely want to take some time to arrange them in a meaningful and aesthetically pleasing way in an album.
Here are the dos and don'ts to keep in mind as you get ready to put your wedding photo album together.
Do: Start Off on the Right Foot With the Photos & Photographer
Before we can talk about the photo album we have to consider the photos themselves. Talk to your wedding photographer about what you have in mind and show them examples of wedding photos you like. You're likely to want a mix of black and white and color, candids and portraits, and people and detail shots (like a close-up of the wedding shoes).
Another thing to think about is if you want to hire a second photographer, or splurge for an assistant to the primary photographer. This way they can capture special moments going on at the same time, like the groom's party getting ready and the bride's party getting ready.
Don't: Think You Have to Create Your Own Album (Unless You Want To)
Not a crafty bride? Does the idea of sitting down at a table surrounded by photos and glue and stationary make you break out into a sweat? Find out what your photographer offers in terms of albums.
You will want to ask questions like: Are the photos mounted with photo corners? Are they slipped behind plastic? Are they printed directly onto the page?
Another reason to consider a professional album: The photographer may retain copyright to the photos (another thing to ask about). If they do, you'll have to go through them to get extra prints if you need them, and this is more expensive than getting them printed on your own.
Do: Consider All Your Options
Here are your main choices for wedding photo albums:
Traditional: A traditional photo album would be bound like a book. This is a sturdy option that should weather the test of time and aging.
Fabric: This is a little bit more creative, and is something you might want to pay a professional to do unless you're particularly crafty. They often incorporate lace into the design and can be very delicate.
Coffee table books: These photo albums have the photos printed directly onto the pages, similar to a magazine, and have a modern look to them.
If you're going for fabric or coffee table, you may want to work with your photographer or another professional. A traditional photo album is likely doable on your own.
Don't: Exclude Your Parents From the Process
Parents (and grandparents, or other significant family members) really love these keepsakes as well. Consider making or having a smaller wedding photo album printed in addition to the primary one that you two will keep. If you're buying your album from the photographer ask about the cost for additional, smaller versions.
Do: Tell a Story With the Album
Imagine that you are writing the story of your wedding except with pictures. The photos should flow in a way that feels natural, and will take the viewer through all the major moments of the evening: getting ready, the vows, the bride and father dance, the cake cutting, etc.
Don't: Forget Detail Shots
You should vary up the pictures in the album – different sizes, have some photos be black and white, etc. – but also remember to include the non-people shots that can be really memorable and visually pleasing.
We're talking a shot of the rings, a close up of the groom's hands as he adjusts his tie, an image of the wedding dress hanging up, ready to be put on. These kinds of pictures will really add a great mix into all the people photos.
Don't: Have Too Many Captions
Remember the idea of telling a story with the photo album? Well, the photos should tell this story pretty much on their own. Don't include too much commentary, unless you need to – like noting what song your first dance was to.
Do: Consider a Scrapbook Feel
If you're going at this on your own, consider adding some special memorabilia in the album of anything you've kept from the process. Things like, pins from your hair, a flower petal from your bouquet, and one of your wedding invitations can add a little bit something special.
Whether you're paying for a profession album, or creating an album for yourself, this important work of art will undoubtedly be the primary way you'll remember your wedding. Enjoy picking out your favorite photos and watching them come together in an amazing way!
Sources:
The Knot: Wedding Photo Album Basics
The Wedding Book: The Big Book for Your Big Day by Mindy Weiss and Lisbeth Levine