Everything You Need For The Perfect Saratoga Wedding
Getting married is an exciting and special time in your life, and the romance and history of the Saratoga Springs area makes it the perfect backdrop for your wedding, with a wide variety of exceptional venues for both wedding ceremonies and receptions.
To help save you valuable time during the planning process, we've researched and located the finest wedding services in the region. Whether it's an idyllic spot in which to marry, a small specialty bakery for the perfect wedding cake, or a Saratoga caterer who specializes in your favorite cuisine, you'll find beautiful wedding venues, professional vendors and services and regional advice at ASaratogaWedding.com, a trusted online resource staffed by Saratoga locals for over 15 years!
From planning tips to wedding vows, bridal gowns to honeymoon travel, you'll find everything you need to create the wedding you've always dreamed of in an area we are proud to call home.
Find The Perfect Wedding Venue!
Weddings come in all sizes, from intimate gatherings with a handful of your closest and dearest, to large gatherings of far-flung friends and extended family. Quickly find just the type and size of wedding venue you are searching for, whether it's indoor or outdoor, intimate or large, country casual or fashionably formal.
FEATURED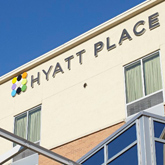 Hyatt Place is the ideal place to hold your reception or accommodate your wedding guests. It's a different kind of hotel providing casual hospitality in contemporary settings. Make Hyatt Place your venue of choice for your bridal shower, rehearsal dinner or reception. The possibilties are endless. Phone (518) 885-1109
The Saratoga Winery & Tasting Room
The Saratoga Winery's Barrel Room is a private room perfect for smaller events such as Bridal Showers,Wedding Rehearsal Dinners, Small Wedding Ceremonies. Dates always fill up fast! Don't delay, get your date on the books today! Phone - (518) 584-9463.